Satisfy your sweet tooth and reap the health benefits.
Yes, you read correctly. "Sweet tooth" and "health benefits" are in the same sentence.
I am an extreme chocoholic by nature, so denying myself of this daily fix is torture (and unnecessary). When I tried to cut it out from my diet, I overate other foods only to continue craving chocolate afterwards. #ChocoholicProblems.
Here's why the ingredients used are [health] winners in my book:
Ingredients:
1 package (approx. 7-ounce package) of raw, unsalted almonds (buy nuts organic whenever possible, here's why)
1 package raw, unsalted cashews
1 package of raw, unsalted Brazil nuts
Unsweetened coconut flakes
3 tbsp coconut oil (cold-pressed, unrefined, organic)
2 tsp raw, unfiltered honey
Ground cinnamon
1 to 3 packets of Stevia (depending on how sweet you like it)
Cacao nibs
Cacao powder
Directions:
In a baking sheet pan, add the raw nuts and coconut shreds. Dry roast at 250 degrees for 20 minutes. Dry roasting--verses oil roasting--tends to preserve the nuts micronutrients (vitamins, minerals and enzymes).
Let cool for 10 minutes.
Once the pan is not going to burn off your fingers, add 2 tbsp coconut oil. You may need to nuke in the microwave if the nuts aren't warm enough to melt the oil on their own. Then, add the raw honey, Stevia and cinnamon. The amounts can vary so do some taste tests along the way to adjust accordingly.
Toss all ingredients and divide the nuts into three Tupperware containers.
In one container, I keep as is. In the second container, I toss in cacao nibs (Gogi Berries could be a nice addition in this one too). In the third container, I add one additional tbsp of coconut oil, about one to two tablespoons of cacao powder and a little more Stevia.
Store in fridge. The coconut will harden, creating a more clustered texture. I have noticed the flavor of the nut clusters with cacao powder develop after at least 10 to 15 minutes in the fridge. They are also a little messy before refrigeration, so I highly recommend keeping them in the fridge before eating.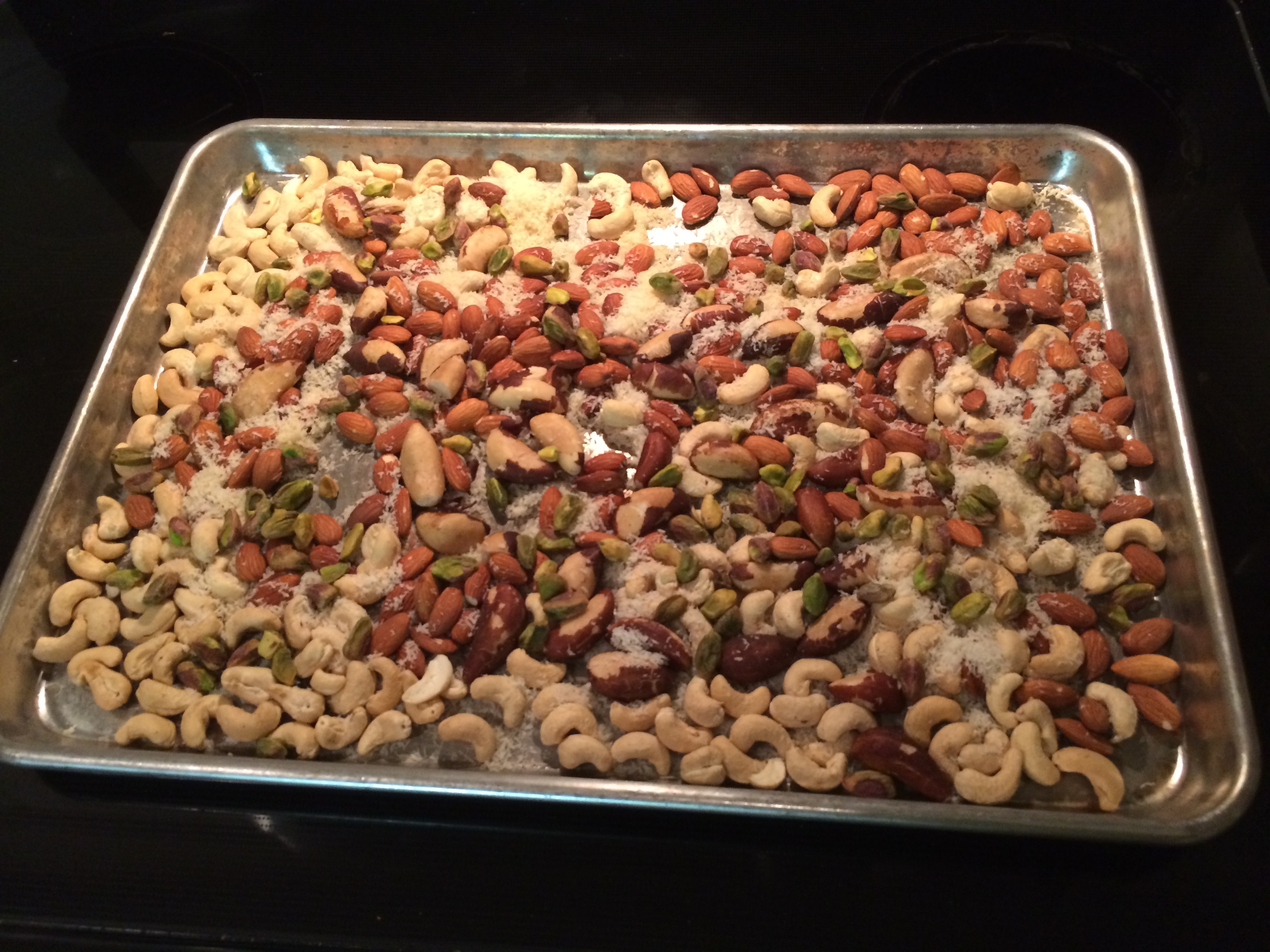 Additional mix-in ideas:
Add more nut variety: pistachio, walnut, pecan, peanuts etc.
Add in seeds: sunflower, pumpkin, flax chia
Add in unsweetened, freeze-dried fruit (ingredients listed should only be the fruit, NO sugars or preservatives): Gogi berries, dried blueberries, dried banana slices etc.
To spice it up: add ground nutmeg, cloves, ginger and all spice to the mix!
Serving ideas:
Eat as is (it's good enough to eat like that). I generally pair an ounce with a protein shake before bed. The fat content in the nuts binds with the protein in the shake, slowing down the digestion (similar to casein protein shakes).
Add to cultured yogurt with additional stevia or raw honey and cinnamon.
Pair with a piece of fruit for a healthy snack in between meals.
Crush up in a food processor and eat it like cereal with a 1/2 cup of unsweetened coconut or vanilla almond milk.